Nikipa Hydro Patch Premium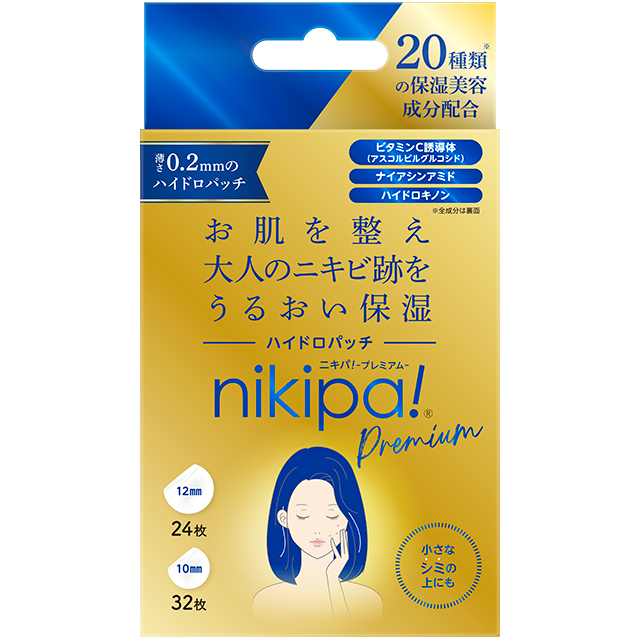 JAN code: 4987062125000
Conditions your skin and moisturizes adult acne scars
Contains 20 types of moisturizing beauty ingredients
Features
(1) Contains moisturizing beauty ingredients that penetrate into the stratum corneum: Vitamin C derivative (ascorbyl glucoside), niacinamide, hydroquinone
(2) Uses hydrocolloid material. It is a material that maintains an appropriate moisturizing environment and preserves the skin's natural strength.
(3) Patch is tested. *
Not all people are immune to allergies or skin irritation.
How to use
・Clean the concerned areas on your skin and remove moisture. Do not apply cosmetics to the area where the patch is stuck. It may come off easily.
・Peel the patch from the transparent film and stick it on the concerned area. You can also apply makeup over the patch.
・Peel off slowly when removing from the skin. If it is hard to remove, simply wet it with cold or warm water before peeling.
Ingredient
Cellulose gum, polyisobutene, hydrogenated polyisobutene, rosin, polybutene, mineral oil, ascorbyl glucoside, aspergillus culture, aloe vera leaf extract, citric acid, dipotassium glycyrrhizinate, hydrogenated retinol, water-soluble collagen, soluble proteoglycan, squalane, isoflavone, centella asiatica leaf/stem extract, tea tree leaf oil, houttuynia cordata extract, niacinamide, hydroquinone, coix extract, sodium hyaluronate, hydroxypropyl chitosan, placental lipid, lithospermum officinale root extract, BG, PEG-8 (caprylic acid/capric acid) glycerides, PG, ethanol, octyldodeceth-25, olive fruit oil, polyglyceryl-10 oleate, glycerin, rice bran oil, glycosphingolipids, cetalkonium chloride, decylene glycol, tri(caprylic acid/capric acid) glyceryl, phenoxy ethanol, polysorbate-80, water, disodium phosphate, phosphoric acid K, lecithin, methylparaben
Caution
■Caution for use■
・Do not use it for anything other than its intended purpose.
・Do not use on areas with abnormalities such as wounds, swelling, or eczema.
・Use with caution if there are abnormalities on your skin. If abnormalities such as redness, swelling, itching, irritation, discoloration (vitiligo, etc.), or darkening appear during use after using the product on areas exposed to direct sunlight, discontinue the use immediately. If you continue to use cosmetics as it is, the symptoms may worsen. Therefore, it is recommended to consult a dermatologist.
・Especially those with sensitive skin and allergies should be careful when using this product.
・Do not use around eyes or mucosae.
・Do not leave it on for a long time or remove it immediately as it may cause skin irritation.
■Notes on storage and handling■
・Please use as soon as possible after opening.
・Do not store in extremely hot or cold places, or in direct sunlight.
・Store out of the reach of infants.